Check out this post from ESPN's Jared Zwerling on New York Knick's basketball star Carmelo Anthony's boxing training.
I'm a big Knicks fan, and also a Carmelo Anthony fan, and also[!] a boxing fan, so this was a fun little read for me.
EXCERPT BELOW: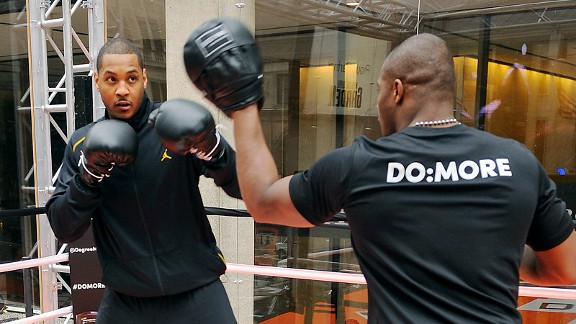 Scott Gries/Invision for Degree Men/AP Images
The other ring on Carmelo's mind
By Jared Zwerling | ESPN.com
MAR 29 8:08 AM ET

He may never win any belts, but Carmelo Anthony takes his pugilism seriously.

Now in his 10th year in the NBA, Carmelo Anthony is still searching for that elusive first championship ring. Even with his team leading the Atlantic Division this season, the New York Knicks -- and everyone else for that matter -- will have to go through the defending champs, the Miami Heat.

But on Thursday afternoon in New York City, Anthony experienced what it feels like to be on the summit of the basketball world, enjoying his second favorite ring.
. . .
READ MORE: http://espn.go.com/blog/playbook/fandom/post/_/id/20240/carmelo-anthonys-other-love-boxing