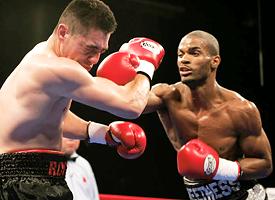 MAIN EVENT
ALLAN GREEN
(23-1, 16 KO, Tulsa, OK)
versus
DARRELL WOODS
(26-10, 18 KO, St. Petersburg, FL)
I'm looking forward to seeing Green, who was affected greatly by a colon problem in his loss to Edison Miranda. Woods is coming off of a thriller against Samuel Miller, the fighter he's replacing tonight. This is in Green's hometown of Tulsa, and hometown tends to mean something in boxing, but Woods' power is real. Could be surprisingly interesting. Woods took down one up-and-comer this year, can he do it again?