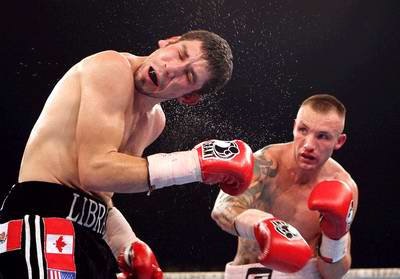 During yesterday's round by round, someone raised the question of whether Librado Andrade has the best chin out there today.  I do think he's at the elite level, but I do think there are a few guys ahead of him.  Here's my top 10.  Just remember, this is only one man's opinion on who has the best chins on a pound for pound basis, and I'm probably forgetting a few guys completely.  Feel free to state where you agree or disagree in the comments below.
1. Glen Johnson - As far as I can tell, Johnson hasn't been knocked down in his career.  His style isn't exactly one that's conducive to not getting hit - he comes forward and throws punches in bunches, and while he does have a bit of underrated slickness, he's still a guy who's more than willing to take one right on the chin to get off two punches of his own.  And it's not like he's faced small punchers.  He got his butt kicked badly by Bernard Hopkins back when they were middleweights, yet managed to not go down.  He went toe to toe with Chad Dawson at 175 in a fight that many thought he won (I had it a draw), and wasn't even wobbled by some massive blows.  He's also faced, and I don't remember him ever being hurt by, some other decent punchers like Tarver, Woods, JG Gonzalez and Jones Jr.  For me, Johnson takes the current Iron Beard Award.
2. Arthur Abraham - Abraham reputedly has never been down in his career, either as an amateur or a pro.  While his turtle shell defensive style means that he's not going to get his square on the chin all that frequently, it still has happened quite a bit, and sometimes at the hands of some pretty big punchers.  Abraham has a titanium jaw - literally.  In their first fight, Edison Miranda broke his jaw early in the fight, and somehow Abraham managed to never go down.  You know you're good at staying on your feet when your jaw gets broken before you get knocked down.  The main reason he's not #1 is that his beard isn't that well tested other than against Miranda.  He could still jump to #1 if he faces off against Pavlik and weathers the storm without getting hurt.
3. Ben Tackie - Sometimes you hear about a guy who trainers love because they know that the fighter will give their prospect a solid 10 rounds of action, so they can test their stamina.  Tackie is prototypical of that guy right now.  Down only once in his career, he's faced off against many of the best at 140 over the past 10 years, including Kostya Tszyu, Ricky Hatton, Kendall Holt, Sharmba Mitchell and John John Molina.  He's also moved up to 147 a number of times, never really getting hurt.  Like Johnson, his style isn't particularly cute, and he does get nailed on the chin, yet he's almost always able to take it, and he generally provides a rugged test for entry into the elite of the division.
4. Librado Andrade - Though Andrade's been down twice in his career (both flash knockdowns, against Yusef Mack and Lucian Bute), there's a pretty good argument for Andrade being number 1.  Unlike the other guys, the majority of his defense consists of him blocking punches with his face.  Some guys are willing to take a punch to get off two, Andrade's willing to take two to get off one.  Most of the time, the result of a punch on Andrade is the same - it just bounces off his head, with no apparent damage, Andrade not even thinking twice about moving forward.
5. Carlos Baldomir - Baldomir is very similar to Andrade, but he's been hurt a bit more than Andrade, so he's a spot lower.  Baldomir has faced a number of good to decent punchers over the years without getting phased - Floyd Mayweather (who absolutely creamed Baldomir, with no discernable effect on Baldomir), Zab Judah, Joshua Clottey, Sugar Jackson and Arturo Gatti.  Baldomir even managed to beat a few of them without having much of a semblance of boxing skill or handspeed, simply because the punches that hit him didn't hurt him, and he had the heart to keep moving forward and keep firing away on his opponent.  While Baldomir is nearing the end of his career, his chin will still make him somewhat special.
6. Stevie Forbes - Initially, I had Forbes ranked higher, but I've been convinced that he should be lower due to his slick style.  Forbes has been operating all the way from 130 to 150, and despite facing a number of guys much bigger and more powerful than he is, he's managed to never go down in his career.  While he's never faced THE biggest punchers, he's managed to fight Oscar De La Hoya, Andre Berto, El Famoso, Yodsanan Sor Nanthachai, among others, and come out unscathed.
7. Bernard Hopkins - Hopkins has only been down twice in his career, and both knockdowns were in the same fight against Segundo Mercado.  While he's good at making people miss or at least not land cleanly, even those who have generally have not been able to hurt him.  On top of that, he's a fighter that often leads with his head, and that's just not something you can get away with if you have a shaky chin, or else it makes it easier for your opponent to knock you out.  Hopkins has fought Jones Jr., Tarver, Johnson, Pavlik, Tito, and Taylor without getting hurt.  One thing that does hurt his legacy, however, is that he never really faced the best (or the biggest punchers) at 160 after he got whooped by Roy Jones.  For almost 10 years, he pulled a Calzaghe, facing mandatories and mediocre optionals, and even when he finally stepped it up against Trinidad, he was facing a blown up welterweight who had left most of his power in the lower weight classes.
8. Shane Mosley - Mosley's worked his way up from a natural 135 all the way to 154, and has really only been hurt once in his career (the second round of the first Forrest fight).  While Mosley has good defense when he fights smart, he's never been one to let his head get in the way of a good brawl, and despite usually being the naturally smaller man, he's been able to take the best that a number of powerful punchers had to offer and keep on coming.  Cotto, Winky, De La Hoya, Mayorga, Vargas, Leija and Molina were never able to get him to back down.  While he is a great boxer all the way around, I feel like his chin is a criminally underrated part of his arsenal.
9. Tomasz Adamek - Yes, Adamek has been buzzed a couple times in his career, but especially lately, he's shown a ton of composure when getting nailed with bombs.  A natural light heavyweight, he's moved up and taken the best that O'Neil Bell (a huge puncher for a cruiserweight, in my opinion), Steve Cunningham and Johnothan Banks have had to offer.  Also, he took a beating from Chad Dawson without getting hurt.  He was buzzed a few times by Paul Briggs in some absolute wars, but he was badly out of position when it happened, and really didn't see those punches coming. 
10. Jeff Lacy - While Lacy hasn't turned out to be what a lot of people thought he would be, he's just taken a ton of punishment over the past few years and never seems to have been hurt.  Joe Calzaghe isn't the biggest puncher in the world, but he's strong enough to do a bit of damage, just not enough to deter Lacy, who seems like he ate about 80 punches a round that fight.  Taylor laid into him without hurting him.  Epifanio Mendoza, a big puncher, was able to land clean just barely buzzing him.  Now, it seems like he's moving up to 175, where he'll have more of an opportunity to have his chin tested.  While he no longer looks like a legitimate contender, he could still carve out a good career as a Ben Tackie type, if that's what he desires to do.
You coulda been a contenda:
Oliver McCall is legendary for his chin.  In the second Lennox Lewis fight, he just broke down and started crying in the middle of the ring, apparently because he was going through some kind of drug withdrawal.  With McCall's hands down, Lewis was able to land a few huge free shots, and McCall didn't even budge.  He still hasn't been down in his career, although he's at the very end of it now and hasn't been in a major fight in a while.  All time, he's way near the top, but I excluded him from this list considering where he is in his career.
James Toney has rarely been hurt in his career, despite moving from middleweight to heavyweight, in part because of his chin and in part because of his slick defense.  At this point, he's been hurt in several recent fights, and 75+ fights plus thousands of hours of sparring have taken their toll on Toney.
Carl Froch could wind up on the list soon, but his chin hasn't really been tested that solidly yet.  To the best of my knowledge, he has yet to be hurt, and wasn't really hurt as an amateur either.
Joshua Clottey could make the list as well, but he has a lot of the same problems as Margarito - he's just usually the bigger man, but unlike Margarito, his chin is less tested because of his turtle shell defense.  If he takes some clean shots from Cotto, he could move up and onto the list.
Sam Peter had a fantastic chin not that long ago, but his heart just isn't in it anymore.  He got caught three times by McCline, and while he was able to take most of Vitali's punches, he just didn't have the will to continue.
Antonio Margarito has a solid chin, but that he had a granite chin is somewhat of a myth.  Cintron never landed many good shots on him, and Clottey's power is overrated (as it usually is for muscular guys).  He's been knocked down about 6 times in his career now, and Mosley really brutally knocked him down.  When he was at 154, he got wobbled on a fairly regular basis.  He's close to the list, but just not quite there - I feel like to have an elite chin, you need to be able to carry it up when you face bigger opposition, and as a welterweight, he was usually the bigger man.  Also, frankly, I'm protesting putting him in the top anything while he's on suspension.
Antonio Tarver would have been up here a couple years ago, but his chin seems to be fading with his old age.  Like Abraham, he had his jaw broken by Harding and just kept on fighting (although he did get dropped late in the fight). 
I can't remember Paul Williams ever being hurt in his career, but other than Margarito, what big puncher has he faced?  Maybe his chin gets bumped a notch with the revelation that Margarito was probably loading, but a lot of questions should be answered next week when he faces a true middleweight in Winky Wright.
Victor Ramirez just won a cruiserweight title much in the same manner than Andrade fights.  He hasn't been tested that much, but he was never down when he fought as a heavyweight, and he looked perfectly natural as a cruiserweight, so it's probably safe to say he has a very solid chin.  He should be facing Ola Afolabi next, so hopefully it will get tested a bit more.
Is David Tua even still fighting?  I heard he was going to fight Shane Cameron, but last time I heard from him, he was whining about not getting any big money offers.  Note to David - you're not going to get any big fights by sitting on your fat ass.